The first time I visited Venice as a wide­eyed teenager, I knew I was supposed to buy Murano glass, but I had no idea why. All I knew was that I was whisked to the famous "glass island" on an overcrowded, stinky boat. I waited behind two dozen American and Japanese tourists to pay an exorbitant price for a little glass fish—what a bewildering experience!
Still, it was the artistic traditions of the world that lured me back and inspired me to study the great artists of the past. Living in Europe and Latin America, I realized that in many places, centuries ­old craft traditions are still living traditions. So began my quest to discover craftspeople passing on a special kind of knowledge to the next generation. I never tire of the stories and the people behind the world's most enduring artistic traditions—everything from Murano glass to Limoges porcelain, balsamic vinegar, Chinese silk and cowboy boots.
The story of The Gondola Maker, my first work of fiction, germinated inside my head while I was busy researching another book called Made in Italy. The contemporary Italian artisans I interviewed, one after another, told me how important it was to them to pass on the torch of tradition to the next generation. I began to wonder what would happen if the successor were not able or willing to take on that
duty. The characters of the gondola maker and his heirs began to take shape. The story intrigued me so much that I felt compelled to write about it.
Working as an art historian involves three things: teaching, researching, and writing. Doing art historical research is a passion for me, and I also love being in the classroom and sharing the history of art with my students. Writing for scholarly journals takes years of training and discipline. I have great respect for the craftsmanship of academic writing and for those who practice it. However, personally, after writing within the conventions of academic scholarship for some years, I began to feel like I was going to burst!
One day I found myself yawning in the audience of a scholarly conference, and I realized that there was something fundamentally wrong. After all, the history of art is the most fascinating topic in the world! Why do we scholars insist on making it dull and inaccessible? I realized then that, not only did I see an opportunity, I felt called to share the excitement of art history with a broader audience through my writing.
Book Synopsis:
In 16th-century Venice, the heir to a family boatyard rejects his destiny but is drawn to restore an old gondola with the dream of taking a girl for a ride.
Venice, 1581
Luca Vianello is the heir to the city's most esteemed gondola-making family. But when an accidental tragedy strikes the boatyard, Luca believes his true calling lies elsewhere. Readers will appreciate the authentic details of gondola craftsmanship along with a captivating tale of artisanal tradition and family bonds set in one of the world's most magnificent settings: Renaissance Venice.
Praise for The Gondola Maker:
"I'm a big fan of Venice, so I appreciate Laura Morelli's special knowledge of the city, the period, and the process of gondola-making. An especially compelling story."
--Frances Mayes, author,
Under the Tuscan Sun
"Laura Morelli has done her research, or perhaps she was an Italian carpenter in another life. One can literally smell and feel the grain of finely turned wood in her hands."
--Pamela Sheldon Johns, author,
Italian Food Artisans
"While a wealth of period lore and beautifully rendered setting—the city's unique sounds, smells, and heritage—dominate her novel, Morelli creates poignantly convincing characters in this handsome coming-of-age novel about adoration, pain, and destiny."
-
Publishers Weekly
---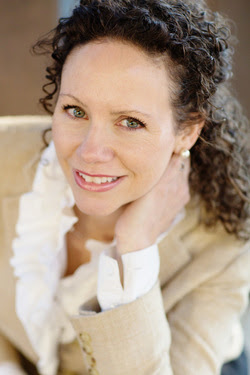 Meet the Author:
Laura Morelli earned a Ph.D. in art history from Yale University, where she was a Bass Writing Fellow and an Andrew W. Mellon Doctoral Fellow. She has taught college art history in the U.S.and at Trinity College in Rome.
She is the creator of the authentic guidebook series that includes
Made in Italy
,
Made in France
, and
Made in the Southwest
, published by Rizzoli. Laura is a frequent contributor to
National Geographic Traveler
and other national magazines and newspapers. A native of coastal Georgia, she is married and is busy raising four children.
The Gondola Maker
is her first work of fiction.
Connect with Laura here:
www.lauramorelli.com
Facebook:
https://www.facebook.com/lauramorelliphd
Twitter:
https://twitter.com/lauramorelliphd
about.me/lauramorelliphd
Laura Morelli, is currently on a virtual book tour. You can read the details
HERE