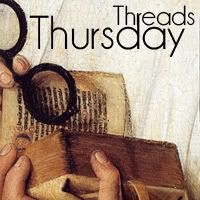 It's Thursday again, so it's time for a new question. This week, we're asking...
Besides historical fiction, what other genres do you read?
(This includes other historical genres, such as historical mysteries or historical romances)
Kelly:
I read basically anything... My favourite genres are anything to do with Canada, non-fictional history, fantasy, and science-fiction.
Nanette:
Historical fiction is my first love, but I also enjoy historical romance, epic fantasy, literary fiction, and nonfiction (especially popular science or narrative nonfiction).
Ana:
I read just about everything as long as the theme or setting interests me. Fiction and non fiction both historical and contemporary. I particularly love mysteries and thrillers and historical romance besides HF.
Julie:
I read whatever appeals to me, both fiction & non fiction. My favourites are memoir & biographical, cozy mysteries & anything with an historical, quilting & sewing theme & genealogical theme.
Marg:
It's probably easier for me to say what I don't read. I read lots of romance, plus some YA, crime, women's fiction, fantasy and sci-fi. I don't really read a lot of non-fiction or horror.
Now it's your turn! Please leave your response in the comments.