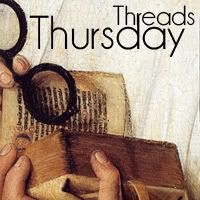 It's Thursday again, which means time for our weekly Thursday Threads feature. This week, we'd like to know:
Where and when are you reading?
Here are our responses:
Marg:
I am currently reading Omamori by Richard McGill. It is a big, juicy old style saga set in Japan during the late 1930s in the lead up to World War II and I believe it goes through to the end of the war. It features a Japanese family and their American business partners, and there are forbidden romances, drama aplenty and a very interesting historical setting. This was originally recommended by
Misfit
who seems to have a special talent for finding these older stories that have dropped off the radar a bit!
I am also listening to A Breath of Snow and Ashes by Diana Gabaldon in the car. I am on disc 9 of 49 (yes, 49) so I am going to be listening to it for a while! In this instalment in the Outlander series, the action is focussed in the days leading up to the American Revolution. This is a reread for me.
Nanette:
I'm reading The Odyssey by Homer for a Greek and Roman Mythology class that I am taking at
Coursera
. I'm sure I've read at least parts of The Odyssey before, but I don't think I've ever read the whole thing. I'm also about to start Katherine by Anya Seton -- watch for my review in a couple of weeks!
Julie:
I am currently re-reading a set of two books, published in Australia that follows the journey of a series of families from Silesia in Prussia (now Poland) to South Australia, & then in the case of my distant family to New South Wales.
Both books are now out of print, but I am going to enjoy the challenge of trying to locate them!
The books are the Hartwig Family History & the Hohnberg Family History. Both books will be reviewed shortly!
Now we'd like to hear from you! Please leave your response in the comments.